Sous vide surf and turf is a favorite main course of the FattyCrab combining seafood and red meat of course. The seafood used for surf and turf sous vide may be lobster, prawns or shrimp, which may be steamed, grilled or breaded and fried. When served with lobster, the whole lobster or lobster tail may be served with the dish.
The meat is typically beef steak, although others may be used. Probably the most frequent pairing by restaurants because of the high dollar they can charge is the combination of lobster tail and filet mignon. It is eaten in steakhouses in the United States, the U.K. Canada, and Australia, and it may also be available in some British/Irish-style pubs in those countries as well.
Sous Vide Surf and Turf
The better restaurants prepare the dish in a Sous Vide cooker which of course we love so that is the recipe we are providing but if you don't have a Sous Vide cooker to make this dish fear not we've included some recipes for those who haven't learned the joys of using a Sous Vide Cooker.
We prefer you to made with Garlic Butter as it goes extremely well with both proteins alone and brings the whole dish together as a wonderful pairing. Without Garlic Butter we simply wouldn't be happy with our it. If you're looking for a keto and low carb steak and fish Surf and Turf recipe for a date night or special occasion, then this is the only recipe you need.
Garlic Butter Preparation
Both proteins of this dish are stars unto themselves but the Garlic Butter is what ties this dish together.
This is the best ever garlic butter I have ever had, it not only is good on surf & turf but makes great garlic bread as well, which by the way goes pretty good with this Surf and Turf dish also. We love putting this homemade garlic butter on mashed potatoes, and even making garlic butter shrimp!
Sometimes the basics are the best! I've used this simple recipe for years to make garlic bread, and any leftovers go great on barbequed steaks, pasta, potatoes or in a killer Buffalo chicken wing sauce. You can use any butter or margarine you like but to make this dish Keto friendly we recommend butter. This garlic butter has a secret little ingredient, a dash of lemon juice, making it extra yummy!
With simple ingredients you likely have on hand, this is  better than any restaurant garlic butter and going to become a staple in your home!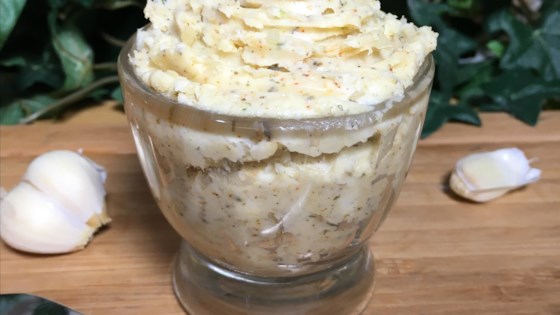 Find the recipe in the video here:
http://chefskitchen.tv/arc/surf-turf-sous-vide-with-spring-fennel-salad
Ingredients for Garlic Butter:
1 Cup butter, softened
1 teaspoon Italian Dressing
1 tablespoon minced garlic
1/4 cup grated parmesan cheese
1 tablespoon garlic salt
1 teaspoon lemon juice
1/4 teaspoon ground paprika
1/2 teaspoon ground black pepper
Add all ingredients to list
Directions with other items:
In a small bowl Combine Parmesan cheese Softened Butter, Lemon Juice, Minced Garlic, Garlic Salt, Italian seasoning pepper and paprika mix until smooth
Sous Vide Steak Bites
This is really the perfect way to make steaks and I'm very excited to share this recipe with you!
I made these Filet Mignon steaks with Garlic Herb Butter using my Anova 900 Sous Vide immersion circulator.
Sous Vide Garlic Butter Steaks
Prep Time: 10 mins
Cook Time: 1 hr
Servings: 4
Ingredients
4 Filet Mignon Steaks 1/2 pound each
Kosher salt
Freshly ground pepper
Garlic powder
2 tbs of chopped fresh flat leaf parsley
1-2 tbls of avacado or olive oil
Instructions
Heat your Sous Vide bath to temperature based on preference of doneness from rare to medium. If preference is medium-rare heat water to 130 degrees to account for increase in temp during final searing and set timer for one hour. When water is heated submerge steaks in vacuum sealed bag and seal. While steaks are cooking prepare garlic butter with the recipe above. Remove steaks from water bath after one hour. Heat cast iron skillet over high heat with 1-2 tablespoon of avocado or olive oil. Once oil is smoking quickly sear steaks on each side 30 second to 1 minute per side. Top steaks with butter compound let rest and serve. Season steaks to taste with salt pepper and a very small amount of garlic powder.
Ingredients Sous Vide Salmon
4 salmon fillets (5 to 6 ounces;)
Kosher salt
2 tablespoons extra-virgin olive oil
Aromatics such as fresh thyme, dill,
parsley, thinly sliced
shallots, and/or citrus zest (optional)
2 teaspoons vegetable oil, if searing
Directions
1. Season salmon w/ salt on all sides.
Place the salmon in a single layer in a gallon-size zipper-lock bag, or in batches in quart-size bags. Add olive oil to bag or divide it between the smaller bags. Add your seasonings to the bags. Close bags preferably vacuum sealing them and place them in the refrigerator, and let the salmon rest for at least 30 minutes or even up to overnight.
2. Using your Sous Vide cooker
(we are using our Anova 900 Cooker), preheat a water bath to the same temp as the steaks 130 degrees. If you haven't vacuum sealed the bags be sure and remove all the air from the zipper-lock bags using the water displacement method: Seal bag almost all the way, leaving about an inch open.  Slowly lower bag into water bath, holding the opened end above the water level. As bag  is lowered, the water pressure should force air out. Just before it is totally submerged, seal bag completely. Use a rack, or clip bag to  the side of cooking vessel using a binder clip, to prevent it from moving excessively. Cook 30 to 45 minutes for fillets 1 inch thick or  less, or 45 minutes to an hour for filets between 1 and 2 inches.
4. Carefully remove salmon from bags
(it will be very delicate) and transfer to a double layer of paper towels. Discard aromatics. Gently blot salmon with paper towels. Carefully peel away skin and discard. Serve salmon immediately with the freshly  skinned side down for better presentation. Use as much of the garlic butter as you  wish but don't overdue it. If you wish to sear the Salmon heat vegetable oil in a cast iron, carbon steel, or nonstick skillet over medium-high  heat until shimmering. Carefully add salmon skin side down and cook, pressing gently on filets with the  back of a flexible fish spatula to help maintain pan contact, until skin is browned & crisp, 1 to 1 1/2 minutes. Carefully flip and cook for an additional 15 seconds. Transfer to paper towels to blot off excess oil, then serve immediately.
Some other non Sous Vide recipes:
Garlic Butter Steak and Scallops SURF AND TURF made in less than 30 min! The steak + scallops are so perfectly cooked with the best garlic butter sauce! Is anyone else super excited about Valentine's Day? I mean, hello? We have steaks, scallops, garlic and so much butter! Things that are much better than flowers, chocolate and jewelry. Am I right or am I right? Well, on second thought, the flowers, chocolate and jewelry can't hurt.
Read More:
Garlic Butter Steak and Scallops
From: littlespicejar.com
Published: 23-Jul-2018
Garlic Butter Skillet Steak and Shrimp Recipe
Little Spice Jar
Learn how to make the most
tender pan-seared garlic
butter skillet
steak and shrimp.
You don't have to go out to get good surf & turf when you can make it so easily at home! Summer eatzzz! I take that back. You can pretty much eat skillet steak and shrimp all year long because it's made indoors on a skillet which makes it perfect for weeknights, weekends, summer, or even winter. Along with being a year-round recipe, it's incredibly easy to make. As in I could buy steaks, ask the hubby  to season them and throw them in a pan and around 20 minutes later, we could be eating a fancy skillet steak dinner.
Read More: 
Garlic Butter Skillet Steak and Shrimp Recipe | r
From: www.epicurious.com
Grilled Surf-and-Turf with Spicy Garlic-Shallot Butter recipe
"I've been cooking since I was 12, and my husband, Bruce, picked it up during a 'Mr. Mom' phase after  our second daughter was born," writes Renee Davis of Cadiz, Ohio. "Although we've since returned to more traditional roles—I usually cook on the weeknights, and he grills on the weekend— we also have a great time coming up with recipes together. Bruce devised this spicy garlic butter to keep lobster tails moist as they cook on the grill." When you want to splurge, this is a sensational and simple dish with assertive garlic and hot (but not too hot) chili flavors. We've been making this recipe for years, it's a favorite. The only thing I do differently was reduce the shallots a bit…maybe 1 big shallot instead of two and I don't cut the lobster tails. I think the balance of the recipe is wonderful. Love the bit of kick!
Read More: 
Grilled Surf-and-Turf  …
From: thefoodcafe.com
Published: 02-Dec-2017
Garlic Butter Surf and Turf Skillet The Food Cafe
Garlic Butter Surf and Turf Skillet is a sexy weeknight meal perfect for  that at home date night. Full of flavor and bursting with creamy garlic butter this is one date night meal that won't be forgotten. Who new dinner could be so sexy as Surf and Turf? Ok, maybe not sexy, but definitely sensational. This Garlic Butter Surf and Turf is so tasty, so extraordinary you will wonder why you haven't made it before. Butter seared shrimp and scallops with a nice New York Strip Steak topped with a herb garlic butter compound is something you would order off a menu.  This Surf and Turf really is an amazing meal and will make date night an ongoing tradition. I admit date night is a bit of a struggle at our house with a wild 16 month old little girl, who is like having 5 kids in on, but i managed to surprise my husband with this Garlic Butter Surf and Turf and  his eyes lit up for joy.  I am not sure it was a "planned'" date night, but it turned  out to be delicious and a great evening.  So surprise your husband or wife with this sexy surf and turf and turn an ordinary night into an extraordinary night.
Yield: 4 servings
Total Time: 30 minutes
Read More:
Garlic Butter Surf and Turf Skillet
Sous Vide Salmon Temperatures

Texture
Temperature
Like firm sashimi
105°F (41°C)
Soft and buttery
110°F (43°C)
Translucent and starting to flake
115°F (46°C)
Very moist, tender, and flaky
120°F (49°C)
Firm, moist, and flaky
130°F (54°C)
Why It Works
Sous vide takes the guesswork out of cooking salmon perfectly  every time. Picking the right temperature range gives you fully customizable and repeatable results.
Fatty CRAB SouS VIDE Our top recommended Sous Vide equipment from the Fatty Crab:
Weber Slow N Sear
SOUS VIDE EQUIPMENT
Joule Sous Vide Circulator
Anova 900:
Anova Precision Cooker WiFi
Sous Vide Supreme
Sansaire Sous Vide Circulator
Sous Vide Container
Sous Vide Container Cover
Best Chamber Sealer
Cheap Suction Sealer
Chamber Bags
Suction Bags
Bag Holder
Mini Weight
Pepper Grinder
Mini Hook Clips
Large Clips
Rib Rack
Stainless Steel Searing Circle Grate
Grate Inside Container (mine is 10×15)
Rack System Lifter
Sous Vide Rack System
(Choose the right size for you)
TORCH SET UP
Torch
Searzall (Heating Lamp)
Touch Gas
SEARING GRATES
Searing Grates
Round Elevated Grate
KNIVES
LIPAVI Damascus Chefs Knife
LIPAVI Damascus Santoku
Chef's Knife
Chef's Knife Japanese
Sushi Knife
Butcher's Knife
Long Carving Knife
Electric Knife Battery
Cleaver
Nicer Cleaver
SMOKER AND GRILL
Smoker
Wood Pellets
Charcoal Grill
Weber Griddle 1/2 Moon
Cast Iron Griddle Round:
Heat Resistant Glove
OTHERS
Blender
Cutting & Serving Board
Color Prep Board
Granite Cutting Board
Food Grade Gloves
Bundt Cake Glass Pan
Glass Mason Jars 8 Oz.
Glass Mason Jars 4 Oz.
Glass 7 Cup with Lid Container Kit
Tongs Tweezers