Sous vide surf and turf is a favorite main course of the FattyCrab combining seafood and red meat of course. The seafood used for surf and turf sous vide may be lobster, prawns or shrimp, which may be steamed, grilled or breaded and fried. When served with lobster, the whole lobster or lobster tail may be served with the dish.
The meat is typically beef steak, although others may be used. Probably the most frequent pairing by restaurants because of the high dollar they can charge is the combination of lobster tail and filet mignon. It is eaten in steakhouses in the United States, the U.K. Canada, and Australia, and it may also be available in some British/Irish-style pubs in those countries as well.
Sous Vide Surf and Turf
The better restaurants prepare the dish in a Sous Vide cooker which of course we love so that is the recipe we are providing but if you don't have a Sous Vide cooker to make this dish fear not we've included some recipes for thiose who haven't learned the joys of using a Sous Vide Cooker.
We prefer you to made with Garlic Butter as it goes extremely well with both proteins alone and brings the whole dish together as a wonderful pairing. Without Garlic Butter we simply wouldn't be happy with our it. If you're looking for a keto and low carb steak and fish Surf and Turf recipe for a date night or special occasion, then this is the only recipe you need.
Garlic Butter Preparation
Both proteins of this dish are stars unto themselves but the Garlic Butter is what ties this dish together.
This is the best ever garlic butter I have ever had, it not only is good on surf & turf but makes great garlic bread as well, which by the way goes pretty good with this Surf and Turf dish also. We love putting this homemade garlic butter on mashed potatoes, and even making garlic butter shrimp!
Sometimes the basics are the best! I've used this simple recipe for years to make garlic bread, and any leftovers go great on barbequed steaks, pasta, potatoes or in a killer Buffalo chicken wing sauce. You can use any butter or margarine you like but to make this dish Keto friendly we recommend butter. This garlic butter has a secret little ingredient, a dash of lemon juice, making it extra yummy!
With simple ingredients you likely have on hand, this is  better than any restaurant garlic butter and going to become a staple in your home!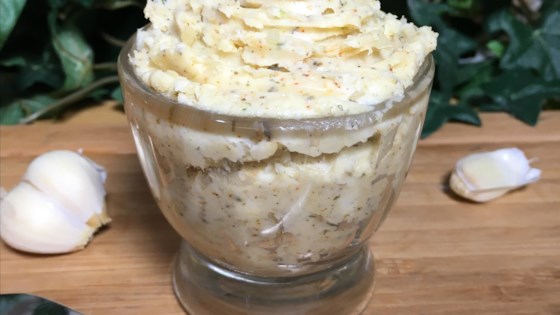 Find the recipe in the video here:
http://chefskitchen.tv/arc/surf-turf-sous-vide-with-spring-fennel-salad
Ingredients for Garlic Butter:
1 Cup butter, softend

1 teaspoon Italian Dressing

1 tablespoon minced garlic

1/4 cup grated parmesian cheese

1 tablespoon garlic salt

1 teaspoon lemon juice

1/4 teaspoon ground paprika

1/2 teaspoon ground black pepper

Add all ingrediants to list
Directions with other items:

In a small bowl,

Combine Parmesan cheese

Softened Butter

Lemon Juice

Minced Garlic

Garlic Salt

Italian seasoning,

pepper and paprika.

Mix until smooth