Immersion circulators for sous vide cooking are available in many brands. If you're looking for the best immersion circulator, consider one that's Bluetooth compatible and highly accurate and that comes with single-degree precision for optimal results.
You should also consider the power output, for small meals for singles or couples lower power immersion circulators aka sous vide wands are sufficient but the more people you are cooking for or if you have a restaurant consider a higher powered Sous Vide immersion circulator.
Get the professional Anova Pro review here!
What is The Best Sous Vide Immersion Circulator?
Sous Vide is a French term for describing a cooking method of cooking food in a water bath. Food is placed inside a vacuum-sealed bag, where it cooks in its own natural juices along with whatever spices you choose to add.
Meat is the #1 item cooks use a Sous Vide Immersion Circulator for but vegetables can also be made and since you aren't exposing the veggies to water they retain all their nourishment. The end result is a delicious meal that's tender and rich in flavor, and that's never overcooked.
You do not need to buy an expensive Immersion Circulator, quite the contrary, most home cooks will fall in love with their machines that may cost less than $100 like the Anova Nano. The Chef Steps Joule is probably the best mid level Immersion Circulator and the newly released Anova Pro gets our high end top pick recommendation.
Weber Slow N Sear You can also read the Sous vide surf and turf garlic butter.
Sous Vide Top Immersion Circulator Reviews
1. Anova 900 Precision Cooker
We'll start the list with our at home immersion circulator that we recommend most often for at home use, the Anova 900 immersion cooker is user-friendly and prouces simply delicious meals.
To get started, you simply attach the unit to any pot or bucket . You can then use the Anova app or the interface on the immersion circulator itself to set the desired cooking time and temperature. Place your food in a vacuum sealed plastic bag and submerge it in the water bath.
The immersion circulator will then cook your food evenly and thoroughly by circulating water around the pot. The app and WiFi connectivity lets you cook or schedule a meal even when you're not at home.
This unit has 900 watts of power and a pump speed of 2.4 gallons per minute. There is also a water direction feature at the bottom of the Anova 900 Immersion Circulator  that allows you to control the direction of the water so that food wont get caught in a corner of your pot.
2. Chefsteps Joule
Cooking with Chefsteps Joule is very easy, even if you are brand new to using an immersion circulatorg. To start, add water to your pot and choose your preferred cooking temperature via the app.
Like all Sous Vide cookers the next step is to place your food in a vacuum sealed plastic bag and place it under the water. Despite its compact size, the Chefsteps Joule immersion circulator is equipped with a powerful heater so that water heats up quickly.
In addition to a built-in clip to secure it to the side of a pot, the immersion cooker also comes with a magnet to help it stand independently in stainless steel pots.
Normally I use a plastic bucket so the magnet doesn't help but it is a great item to have if you are using stainless stell pots. It works with Iphone or Android phones and connects via Bluetooth. It is extremely precse to within .2 degrees farenheit.
Read a more detailed review here wancle sous vide slow cooker operation video-For cooking egg.
3. Wancle Sous Vide Immersion Circulator
The Wancle immersion circulator covers all the basics and is a great entry level Sous Vide cooker, with 850 watts of cooking power it fits in nicely between the Anova Nano and the Anova 900.
It has a digital timer so no app to deal with. It has an attractive stainless steel finish. Unlike many of its competitors, this unit offers a pretty wide temperature range so you can make lots of different dishes.
Catch the Wancle in action here joule by chef steps is the Apple of Sous Vide Cookers – Review & Anova Comparison!
Wancle Immersion Circulator
4. Anova Nano
Anova's entry level machine is the Anova Nano, it is priced less than $100 and shows why the company remains the top-selling Immersion Cooker manufacturer. It's easy to use and is very precise.
If you're looking for a entry-level sous vide immersion circulator, the Anova Nano is the one to get. The all-black Nano looks sleeker than the original Anova, too.
For one, the clamp used to secure it to a pot or container is smaller and integrated into the unit; on the original, the entire clamp was removable. The effect is that the body of the Nano is an uninterrupted cylinder.
5. Anova Pro
Designed for commercial use the Anova Pro would make a top of the line home model for those wanting the best of the best. It's made of aluminum and stainless steel and has a strong Teflon coating.
Anova says it holds up to IPX-7 durability ratings, which included kitchen-friendly drop testing (always a good thing), and there is also a solid 2-year warranty on the Anova Pro. It cooks large meals to perfection with its 1200 watts of power.
Read a more detailed review here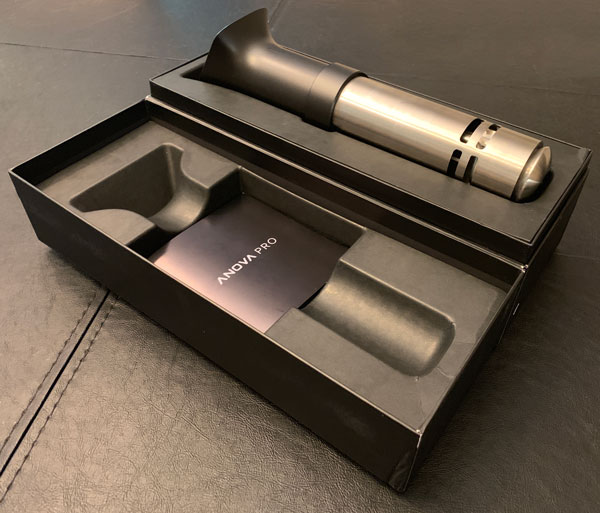 You've probably already decided you want to buy an immersion circulator and try cooking your food sous vide style, or else you wouldn't be here! We've recommended what we believe are the best sous vide immersion circulators available for their price, durabilty, precision and ease of use.
For most people, the decision will come down to price. The Wancle and Anova Nano are the best entry level machines under $100. The Anova 900 and the Chefsteps Joule are superb machines for home use and if you want the best of the best then there is the Anova Pro.
Sous vide cooking relies on precise temperatures to lock the flavor in and cook the food evenly throughout. It's main advantage that few talk about is that it is really so simple to do.
All it takes is setting the temperature on your app or immersion circulator and placing the food in the water bath. Follow those instructions and you'll come out with perfectly cooked food. Seriously, it'salmost impossible to screw up!
The list of the top 5 Sous Vide Immersion Circulators
Anova 900 Precision
Chefsteps Joule
Wancle Sous Vide Wand
Anova Nano
Anova Pro
Be sure to shop at the Fatty Crab.
Equipment Used
Our top recommended Sous Vide equipment from The Fatty Crab:
SOUS VIDE EQUIPMENT
Joule Sous Vide Circulator
Anova 900
Anova Precision Cooker WiFi
Sous Vide Supreme
Sansaire Sous Vide Circulator
Sous Vide Container
Sous Vide Container Cover
Best Chamber Sealer
Cheap Suction Sealer
Chamber Bags: http
Suction Bags
Bag Holder
Mini Weight
Pepper Grinder
Mini Hook Clips
Large Clips
Rib Rack
Stainless Steel Searing Circle Grate
Grate Inside Container
Rack System Lifter
Sous Vide Rack System
(Choose the right size for you)
TORCH SET UP
Torch
Searzall (Heating Lamp)
Touch Gas
SEARING GRATES
Searing Grates
Round Elevated Grate
KNIVES
LIPAVI Damascus Chefs Knife
LIPAVI Damascus Santoku
Chef's Knife
Chef's Knife Japanese
Sushi Knife
Butcher's Knife
Long Carving Knife
Electric Knife Battery
Cleaver
Nicer Cleaver
SMOKER AND GRILL
Smoker
Wood Pellets
Charcoal Grill
Weber Griddle 1/2 Moon
Cast Iron Griddle Round
Heat Resistant Glove
OTHERS
Blender
Cutting & Serving Board
Color Prep Board
Granite Cutting Board
Food Grade Gloves
Bundt Cake Glass Pan
Glass Mason Jars 8 Oz.
Glass Mason Jars 4 Oz.
Glass 7 Cup with Lid Container Kit
Tongs Tweezers